Blog archive: 2012 entries
view latest entries
view 2011 entries
view 2010 entries
view 2009 entries
19th December 2012 Happy Christmas from ELEVEN AND A HALF!
It's been a manic couple of months. Four art fairs and an exhibition have involved a lot of travelling and plenty of hangings and re-hangings. However, it's been great fun and we're delighted to have met so many people around the country who appreciate Cornish art. Next year we already have several art fairs planned and we're hoping to put on a large one-man show in early summer. More details on those soon. We also hope to have a couple of new artists join us for 2013.
Thank you to everyone who's visited one of our shows this year or come to see our stands at art fairs. We look forward to seeing you again next year. Happy Christmas to you all!
Back to top.
19th October 2012 New John Piper paintings for AAF
Last weekend I collected new work from John Piper ready for the Affordable Art Fairs in Battersea and Hampstead which take place in the next 2 week. He gave me a great selection of work in his familiar styles. He also gave me 5 large canvases in a style that represents a new direction. The cottages are still there! The layering of the paints and the texture of the painted surface are unmistakeably John's. But the colour pallette is much more muted and the paintings have a strong vertical structure that isn't present in his recent other work. Come and see them at the fairs! In the meantime there's a sneak preview here.
Back to top.
We have recently acquired a painting by Brenda King from a private sale. Until her sad death in 2011 we regularly exhibited Brenda's paintings in our shows. They were always a big draw. Rose Chair most likely dates from the mid 1970s. It is framed in the same style as paintings she sold through Heal's Gallery in the early 1970s while the original price is somewhat higher (£40) than those I've seen from 1973 and 1974. Both the subject matter and the painting style also indicate a later date. More details can be found here.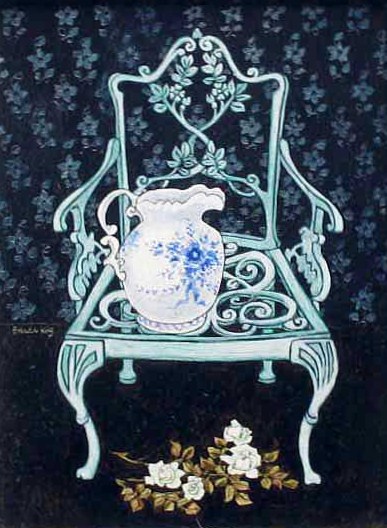 Back to top.
14th September 2012 Lincoln Kirby Bell
When I was in Cornwall recently I collected some latest pieces of ceramic by Lincoln Kirby Bell. As well as the spotty, swirly patterns he is well-known for, there were some new designs thrown in. There were also some new pieces - notably some large lidded jars. All went down well at last weekend's Cheshire Art Fair. You can see the collection here.
The next outing for the ceramics will be the Windsor and Edinburgh art fairs in a few weeks' time. We'll also be showing it in our Christmas Show at the A&D Gallery, Marylebone, at the end of November.
Back to top.
1st September 2012 New Simon Pooley paintings
We've just taken delivery of some new paintings from Simon Pooley. They're all depictions of the landscape of West Cornwall, executed in the now familiar style of his most recent work. They capture the warmth, ruggedness and variety of the area. You can see the paintings here.
These, and more of Simon's work, will feature in our 3rd Annual Summer Show that begins next Saturday. More details here. If you can't make it to Trebehor we've put online a selection of paintings that we'll be showing and we'll keep adding to these in the run-up to the show.
Back to top.
12th August 2012 ELEVEN AND A HALF and the Olympics
ELEVEN AND A HALF is based in Spitalfields, just a couple of miles from the Olympic Park. The last couple of weeks have been great - it's been hard not to be caught up with that's going on just down the road, and we've been lucky enough to see a couple of events. Even the dire predictions of transport chaos have proved unfounded. It was, however, something of a surprise to see the front door to ELEVEN AND A HALF featuring in the opening ceremony itself. OK, you'd had to be eagle-eyed to spot it in the initial countdown from 60 - 1 but somehow most people we know seem to have done just that. It you missed it, here's the clip again:
Now, if just 1 in 1000 of all the people who saw that clip bother to look us up, and if just 1 in 1000 of them decide to buy a painting from us, we might reasonably expect to sell 2000 paintings in the next month. I'm sitting by the phone waiting for it to start ringing!
Back to top.
30th June 2012 Davies and Catt
We're coming to the end of the first week of our exhibition of paintings by Neil Davies and Ben Catt. Many thanks to all of you who have visited us at the A&D Gallery, Marylebone, this week. After a few days' break the show will resume in Cornwall - at Mowhay Barn in Trebehor, a few miles from Land's End. We hope we'll see some of you there. Ben and Neil will be at the Opening on the afternoon of Saturday 7th July.
Much of the work from the show can be viewed here. However, Ben's paintings for the show are generally behind glass and couldn't be photographed. Some of the work has now sold but there are still some fantastic paintings available. Please contact us for details.
Back to top.
After a busy run of art fairs around the country(Glasgow, Chelsea, Bristol) it's good to be back to normal planning an exhibition again. Davies and Catt begins in 4 weeks and is a show I've been looking forward to for a year. Neil's and Ben's work always makes a very strong impression and to a show of just their paintings will look great. Having said that, we'll also have sculpture by Chris Buck and ceramics by Lincoln Kirby Bell!
Neil and Ben are still painting away down in Cornwall, getting the work ready for the show. As the paintings are finished I'll gradually add them to the website here. I put the first few up the other day. It's looking a little sparse at the moment but they assure me there are more to come nearer the time.
The exhibition will spend a week at the A&D Gallery, Marylebone in late June and then resume in Trebehor, West Cornwall, in the second week in July. More details of the show here page. Please sign up to our mailing list to receive a brochure when they're printed.
Back to top.
3rd April 2012 Chelsea Art Fair
In a couple of weeks we'll be taking work to the Chelsea Art Fair. This event has been held for several years in Chelsea Old Town Hall on the King's Road but it's our first trip there. Forty galleries from around the country will be there too, bringing paintings, ceramics and sculpture from across the UK and beyond.
We'll have work by a selection of our artists including Chris Buck, Neil Davies, Jason Lilley, John Piper, Simon Pooley and Terry Whybrow. We recently collected new paintings and sculpture from them and this is the first chance to see their latest work in the South East. Jason Lilley's paintings were particularly well received at the Glasgow Art Show last weekend and we will have 6 new pieces on display at Chelsea.
More details of the fair on our events page. We have a few free tickets left for the Private View and the Fair itself. Please contact us if you'd like us to send you one.
Back to top.
18th March 2012 New Artist: Chris Buck
We are very pleased to announce that we will now be exhibiting work by Chris Buck at future events. Chris is one of Cornwall's best known sculptors and follows in the best traditions of the St Ives Modernists, notably Barbara Hepworth and Denis Mitchel. His work, inspired by his local environment, is generally sand cast in bronze before being finished by several days of grinding, filing, patinating, texturing and polishing.
Yesterday we collected 6 great pieces of work by Chris from his studio near Truro. The first chance to see the work will be at the Glasgow Art Show next week (22nd-25th March). In the meantime we have some photos on Chris' page on this website.
Back to top.
6th March 2012 Affordable Art Fair, Bristol 2012
We are delighted to have been offered a stand at this year's Affordable Art Fair, Bristol 2012. Now in its 10th year the fair has grown to be one of the largest in the UK outside the two Affordable Art Fairs in Battersea, London. The line-up of galleries and artists is always very strong and 2012 will see a decent representation of paintings and scultpure from Cornwall in particular. We always enjoy our shows and fairs in the West Country and are looking forward to this one.
We are currently finalising our line-up of artists for the fair. For more details please do not hesitate to contact us..
Back to top.
23rd January 2012 Events for 2012
We've recently updated our list of events for the first half of 2012. We're busy making preparations for our first exhibition of the year - a two-man show of paintings by Michael Praed and Terry Whybrow in April and May. Later we'll have another two-man show, this time by Ben Catt and Neil Davies and in the last third of the year two group shows in Cornwall and London. In between we'll be taking our artists' work to several fairs, beginning with Glasgow in March and Chelsea in April.
If you want to see any paintings on this website in the meantime, please do not hesitate to contact us. We keep a selection of paintings here in London and regularly have people round to view them.
Back to top.